Eigenschaften
Die RL131 ist eine Radialkomponenten-Bestückungsmaschine mit Führungsstift-System zum Hochgeschwindigkeitsbestücken
eine taktzeit von 0,17 s / komponente, was auch zu energieeinsparungen und reduzierten betriebsgeräuschen führt.
High-Speed- und High-Density-Insertion
Das Einfügen mit hoher Geschwindigkeit bei einer maximalen Taktzeit von 0,17 s / Bauteil ermöglicht das Einfügen mit höherer Dichte.
Verbesserte Betriebsrate
Der feste Komponentenvorschub liefert Komponenten, ohne die Maschine anzuhalten, was eine längere Lebensdauer ermöglicht
Stundenbetrieb.
Die automatische Wiederherstellung der Stromversorgung und die Programmierfunktionen tragen ebenfalls zu einem längeren Betrieb bei
Die Maschine.
Höhere Zuverlässigkeit
Einfügepositionen werden basierend auf dem Versatz korrigiert, der durch visuelle Erkennung von Einfügelöchern auf erhalten wird
PC-Platine für hochzuverlässiges Einsetzen.
Maschinenspezifikationen
Item

Details

Power supply

= Rated voltage

= Frequency

= Rated capacity

3-phase 200 / 220 V ± 10 V selectable

380 / 400 / 420 / 480 V ±20 V selectable

50 / 60 Hz

Approx. 3.5kVA

Air supply

= Supplied air pressure Min. 0.45 MPa to Max. 0.8 MPa

(Operation air pressure: 0.45 ~ 0.5 MPa)

= Supplied air mass Approx. 80 L / min. (A.N.R)

Note: Quick coupler attached (SMC KK13P-03M, KK13S-03F).

Dimensions

= NM-EJR1A

= NM-EJR2A

W3,200 ´ D2,417 ´ H1,575 mm

(Not including signal tower) W3,200 ´ D2,417 ´ H1,575 mm

(Not including signal tower)

Mass

= NM-EJR1A

= NM-EJR2A

Approx. 2,250 kg (main body only)

Approx. 2,350 kg (main body only)

Environmental requirements

= Ambient temperature 20°C ± 10°C

Operating controls

= Interactive operation via color LCD touch screen (Front and Rear: Standard equipment)

English/Japanese/Chinese selectable with a single button Recognition screen (displays the recognized board image on a superimposed window)

Hierarchical menu (Operator/Engineer)

= I/O functions 3.5-inch FDD and SD card slot (standard equipment)

= Communication RS-232C

Coating color

= Standard color

White: W-13 (G50)
Basic Performance
Item

Details

Insertion tact time

= Max. tact time: Approx. 0.17 s/point (0.20, 0.25, 0.36, 0.45 s/point changeable)

0.25 s/point conditions

=REMARKS=

*1 X-Y table movement at the tact time of 0.17 s/point: Within 35 mm Insertion direction: 0°, 90°, -90° (180°: 0.36 s/point)

*2 The tact time above is enabled only when components are continuously taped. (Tact time varies if there are missing portions.)

*3 Tact time varies between the beginning and the last of the insertion.

*4 Tact time varies when new components are inserted for recovery.

*5 Tact time varies also if 10 or more feeders are operated at a time due to the NC data setting.

*6 Tact time must be set between 0.25 and 0.45 s when inserting components more than 12 mm in diameter or more than 18 mm in height

Applicable components

Insertion pitch: 2.5 and 5.0 mm Height: Hn = Max. 21 mm Diameter: D = Max. 13 mm

Resistors, electrolytic capacitors, ceramic capacitors, LEDs, transistors, filters and resistor networks

Component packaging

= Taping (in pack or reel)

=REMARKS=

Component pack must be lower than 360 mm and width less than 62 mm. Component reel must be up to 360 mm in diameter and 62 mm in width. Bracket and reel shaft are required. Cannot be used on the upper stage of

the supply unit.
PCB replacement time

= Approx. 2 s to 4 s (Ambient temperature: 20°C):

=REMARKS=

PCB replacement time only includes time for loading. It takes approx. 4 to 5 seconds including the table return time.

Applicable PCB

= Demensions

Min. 50 ´ 50 mm to Max. 508 ´ 381 mm

Width-to-length ratio: Width should be equal to or less than length. Consult us for boards having width longer than length.

= Allowable insertion area

Min. 50 ´ 40 mm ~ Max. 508 ´ 371 mm

= Thickness

1.6 mm ± 0.15 mm (for standard specification)

=REMARKS=

Boards of thickness from 0.6 mm (min.) to 2.0 mm (max.) are applicable. Even if the board thickness is within the above range, clinched angle of the inserted lead or lead length may vary, or board transfer error may occur depending on the shapes of board or insertion holes. Please contact us in advance.

= Mass

Max. 1 kg per board including inserted components.

= Flow direction

Right to left (Standard) or Left to right

= Board positioning method

Pin positioning (Standard, without positioning in the Y direction),

=REMARKS=

Contact us separately for edge positioning.

Insertion pitch

= 2-pitch specification

2.5 mm and 5.0 mm, or 2.54 mm and 5.08 mm

Insertion direction

= 4 directions (0°, 90°, 180° and -90°)

Anvil

= Cutting & Clinch type system (Piezoelectric detection system)

No. of component inputs

= NM-EJR3A

40 types

= NM-EJR4A

80 types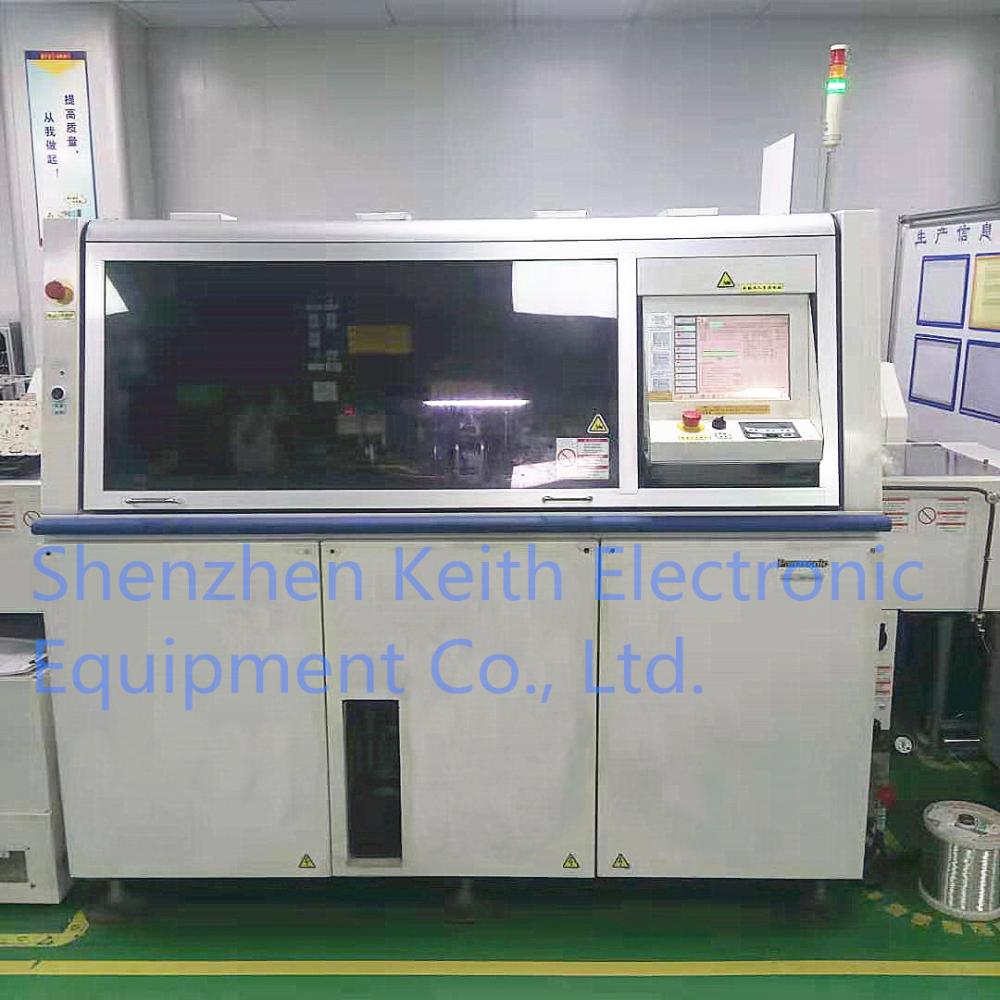 Shenzhen Keith Electronic Equipment Co., Ltd "in Baoan District, Shenzhen. Es ist ein Anbieter von AI-und SMT-Geräten, Ersatzteilen, Verbrauchsmaterialien und Hilfsverbrauchsmaterialien in China. Im Laufe der Jahre haben wir fortschrittliche Geräte und Teile für bereitgestellt Für den Export planen wir die Entwicklung Europas, Nordamerikas, Südamerikas, Südostasiens und Indiens, wo Ersatzteile für SMT-Geräte benötigt werden.
Unternehmensphilosophie: Zusammenarbeit, Win-Win, Innovation, gegenseitige Unterstützung
Wir haben das Markenmanagement-Konzept der "Fokussierung auf Produktqualität und Kundenbedürfnisse" eingehalten, durch die Umsetzung von Open Innovation, exzellentem Betriebsmanagement, Personalentwicklung und anderen Strategien, um die Kernwettbewerbsfähigkeit des Unternehmens umfassend zu konstruieren, Kunden zu schaffen und soziale Werte, und gewinnen das einstimmige Lob der großen Anzahl von Kunden und der Gesellschaft.
Hauptprodukte:
Panasonic Insertion Machine, Panasonic Insertion Machine-Teile, Panasonic Placement Machine, Panasonic Placement Machine-Teile, Panasonic Feeder & Feeder-Teile, Feeder Trolley, SMT Squeegee usw. Um mehr über unsere Produkte zu erfahren, kontaktieren Sie uns bitte über die folgende E-Mail-Adresse deine Kooperation!